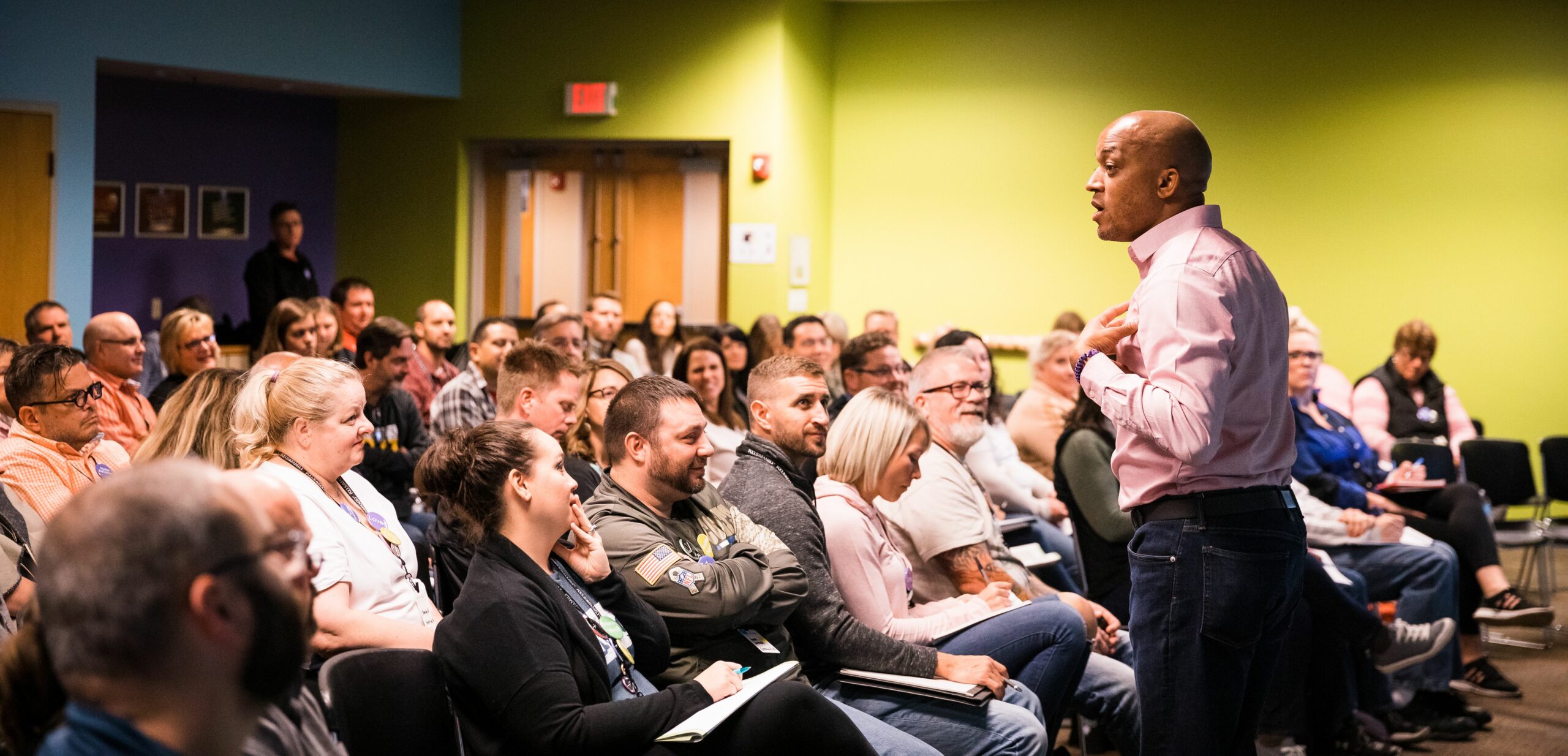 Cindy Lee | Trauma & Healing: Tools & Techniques for Addressing Problematic Behaviors (Part 1)
In order to care for our children well, we need to understand trauma and its effects on behavior. This session will provide an overview of trauma and tips for addressing challenging behaviors while also helping your child come to know they are seen, heard and valued. Issues such as lying, meltdowns, sleep, and verbal defiance will be discussed. Participants will walk away with practical parenting tools.
Jami Kaeb | It's Not Supposed to Be This Way
What do you do when you're struggling through the longer than expected wait, walking forward after loss and good-byes, giving your all without seeing any desired outcomes? What do you do when you're disappointed by God? If you're in this place emotionally and not sure where to go from here, this space is for you. This session will be real, raw, and full of Hope.
Jamie Finn | Healthy Relationships With Biological Parents
Foster care is about more than just taking care of a child, it's about playing a part in the healing of a family. This breakout will address the foster parent's role in building, strengthening, and repairing relationships with biological families. Jamie will lay the groundwork for a theological and research based foundation for family preservation and reunification, and share practical steps and ideas for foster parents looking to grow in building relationships with biological parents.
Natalie Donald | Is it Sensory Processing or is it Behavior?
Using sensory strategies to help kids with emotional regulation, attention, and learning is more than providing a few fidgets and taking movement breaks. This presentation will look at interconnections between sensory processing challenges and trauma, specifically related to emotional regulation. It will be jam-packed with practical suggestions for utilizing sensory strategies in the home to support regulation, minimize stress, and stay connected.
Mike and Kristin Berry | How to communicate your child's needs to others
One of the greatest barriers in our parenting journey, is the ability to successfully advocate for our children, and appropriately communicate their needs in a way that does not divulge too much information and details. In this session, we will walk through both aspects, and provide clarity and direction when to help you succeed as a caregiver when working with providers and professionals.
Chef Kibby | Collaborative Cooking Made Easy
Do you want to connect with a child in the kitchen but are unsure where to start? Chef Kibby is here to help demystify the kitchen by showing you how to read recipes with an eye for connection. Breakfast, lunch, dinner, or anywhere in between, you'll have a better idea on how to plug a child into the process to feed their connection needs.
Carrie O'Toole | I Don't Know If I Can Do This Anymore: Considering Relinquishment (Part 1)
Parents go into adoption believing it is forever. Many times, we are unprepared for how traumatic it can be to parent a traumatized child/ren. Where do we go if we don't know if we can continue? What if our marriage or other children are in danger? What options do we have? How do we know if more therapy will help, or if we've done all we can? These questions and more will be addressed in this workshop. Join Carrie O'Toole, M.A., who has been down this road with one of her 2 adopted sons. She coaches families through these tough questions, and is here to share what she has learned to help others walk through this challenging journey.
Friday, 12:30 pm (Lunch & Learn)
Jared Brooks | Foundations for Financial Clarity (Lunch & Learn)
Regardless of the type, any child placement into your family can have an impact on your finances. Make sure your financial house is in order with Jared Brooks from Thrivent and walk away with resources toward financial clarity for your family.
Cindy Lee | Trauma & Us: The Caregiver's Journey (Part 2)
Attachment is the blueprint for how each of us engages in relationships with others. Trauma impacts our children's ability to foster healthy attachments with others, and our attachment style is important as well. Understanding your attachment style and the attachment style of the children gives you tremendous insight into the dynamics of your relationship. Once this knowledge is gained, effective strategies for deeper connection and respect can be implemented. This session will focus on helping you understand the attachment style of you and your child, and discuss some strategies for potential change.
Tabitha Goldsmith | How to release anxiety while managing a home of many
This is for the parent who wears all the hats. School, work, appointments, therapy, hospitalizations, court hearings… the list is endless! I will teach you a very simplified approach to managing emotions in real time. With tangible examples and takeaways to apply NOW, in order to create a more peaceful home for everyone.
Jeff McCord | Becoming Us: Using the Enneagram to cultivate a Christ-Centered Marriage
The Enneagram is a helpful tool, but it is the gospel that transforms us. With the insights of our Enneagram relational style, we can gain insights into how to lead our own hearts with the truth of the gospel. A heart that is in rhythm with the gospel transforms the way we relate to our spouse, children, and ourselves.
Mike and Kristin Berry | How to manage disrespectful, defiant, and aggressive behaviors
Meltdowns in public. Tantrums in the neighborhood. Stand offs in the church lobby. The list goes on and on. Your child's behaviors can be frustrating and infuriating. How do you even begin to manage, let alone, respond to disrespectful, defiant, and aggressive behaviors? In this session, we will dive into 3 crucial areas of behavior response and management: understanding triggers, prevention, and intervention. Plus, we will provide a practice, 4-step blueprint to help you effectively re-regulate your child.
Tricia Little | Using music for connection and care
Music is an amazing tool to help build connection, create consistency, smooth transitions, and bring joy into the lives of our families. This session will provide over a dozen research-backed, practical suggestion for how to use music in your home and daily life.
Jamie Finn | Fighting Fear + Finding Peace
Are you filled with anxiety as you consider your child's past history, current struggles, and future course? With real-life stories and lessons from God's Word, this session will encourage and equip foster and adoptive parents to fight fear and find peace for this calling.
Chuck Hagele | Technology addiction and how to overcome it
Our kids are desperately trying to meet their needs, many times using technology. However, they continue to struggle with anxiety, depression, loneliness, self-regulation, and appropriate relationships. This session helps us become curious about underlying needs and helping to develop skills and resources to meet those needs rather than constantly battling technology.
Jami Kaeb, Carrie O'Toole, and Jessi Hogsett | Trauma & Real Life: When Diagnoses are Stacked Against You
Listen in as Jami Kaeb interviews Jessi Hogsett and Carrie O'Toole. Jessi was diagnosed with fetal alcohol spectrum disorder and reactive attachment disorder (RAD). He was separated from the only sibling he knew and placed in foster care. As a result of his trauma his life spiraled, ultimately leading to his placement in residential treatment where he experienced hope and healing. Both Jessi and Carrie (adoptive mom, and coach for struggling adoptive families) will discuss practical tools to bring hope and healing to your home.
Mike and Kristin Berry | Parenting beyond childhood
We know the fears you have as a caregiver. "Will my child ever have a normal life?" "Will they be able to get a job, go to college, find resources, get married, and find friends?" "Will they live with me forever?" The fact is, your child is going to grow up and will need resources to help them navigate life. But how do you find this? In this session, we will give you practical ideas for parenting your child beyond childhood. Plus, we'll share simple ideas to finding resources that will help your child succeed.
Shreya Ramachandran | Being a transracial & transcultural family: What you need to know
In our radicalized world and country, it is important to understand the complexities and nuances of raising children with a different racial and cultural identity from you. If parents are willing to go above and beyond to educate themselves on this topic, they can protect their child from further harm and foster a nourishing home, one that can allow their child to form a healthy identity.
Jason Johnson | Reframing the journey: Seeing God in the good and hard
Foster and adoptive parents face a unique set of challenges and circumstances that must be filtered through the lens of God's truth. This session will help you "reframe" some thinking through those experiences along your journey in a helpful and sustaining way. Whether you're just now considering getting involved in foster care or you've been on the journey for quite some time you'll walk away encouraged, refreshed, and inspired to take your next best steps forward.
Trish Jonker | The Food + Mood Connection
Food can be a comfort or a battle. How is it going in your home? Together we will talk about challenges like food sensitivities, cravings, and refusals. Plus, we'll explore how the food we eat impacts our mood + functioning. Realistic strategies will be offered for children, teens, and parents.
Tamara Bolthouse | Choosing Residential Treatment
Demystifying the confusing treatment industry and finding the right kind of therapy program for a child impacted by foster care or adoption who needs out-of-home behavioral, mental health, or neuro-specific treatment. We will discuss prioritizing treatment goals, and finding programs that specialize in attachment and developmental trauma; Parental concerns with out-of-home custody, and CPS, School, or State involvement; Health Insurance Coverages, or funding through Medicaid, Adoption Assistance, IEP Funding, Crime Victims Compensation, Tribal Funding, or Lending resources; and Finding family-inclusive treatment locations. This session will be a researching parent or resource hoarder's dream come true. All my best handouts will be available.
John Gibson | Stigma Strong: a Q&A with former foster youth John Gibson
John Gibson is a former ward of the state who lived in 11 foster homes and two temporary group homes. STIGMA Strong is the story of how one teacher who knew the signs of abuse changed the trajectory of John's entire life. If you're caring for children impacted by foster care or who have experienced significant abuse, join us. John will answer questions from the audience, share his wisdom and insights on how to best support children in their healing process, and will equip you as caregivers.
Saturday, 8:00 - 8:45 am CST
Jami Kaeb | Compassion Fatigue, Burnout, and the Gospel
As believers we are called to follow the example of Jesus; serve selflessly and give generously. But what do we do when our service for God provokes in us anxiety, depression, and burnout? In this message, we will talk through a different way to think about our responsibility to live out the gospel.
Chef Kibby | The Hunger for Connection
Children from hard places are hungry... and not just for pizza. Many of the challenges we face as foster and adoptive parents can be better addressed when we embrace a child's inherent hunger for connection. Join Chef Kibby as he takes you through his personal journey in a fun and interactive workshop designed to help you see the connecting power of food and cooking.
Johnathon Eltrevog (moderator) | What I Wish You Knew: A Panel of Adoptees and Foster Alumni
In order to support our children well, we need to understand their experience. In this session, you will hear firsthand accounts from the voices of adopted and foster persons, as they take a deep dive into issues such as identity, grief and loss, and more. You will be both challenged and encouraged.
Jason Johnson | Healthy Rhythms, Healthy Souls: Tending to the Deepest Parts of You
We can't give others what we don't have. Sometimes this journey depletes us and we're left feeling like we have nothing left to offer - to the children and families we serve, to the process, to our families, and to ourselves. We're spent. This session is intended to offer practical, simple, and implementable ideas you can take back home that will help you establish healthy rhythms and practices focused on tending to the depths of your own soul on a regular basis.
Tamekia Swint | African American Haircare Basics
Hair is central to the care of your child. Come learn about the connection between hair and culture and the development of a healthy identity. Learn black hair care and skin care basics. Ask your questions and see a hair braiding demo!
Ashley Mitchell | Navigating Openness with Birth Families
Over 16 years post-placement one birth mom has navigated the complexity of open adoption. From no contact to an open adoption relationship, Ashley shares the incredible ways that her son's adoptive mother showed up, made space, and loved well. If you're wondering where to start or how to continue, this session is for you. This session will cover: loving through seasons of silence and disconnect; repairing relationships, building trust through boundaries and respect, navigating emotions for everyone involved, and how to lay a foundation you can build on.
Trish Jonker | When Consequences Don't Work
Are you and your teen constantly in a battle of wills? Are you always fighting, always disagreeing, and never able to get on the same page? Collaborative Problem Solving is a strategy rooted in the belief that children & teens with challenging behavior don't lack the will to behave well... They lack the skills to behave well. Participants will learn how to identify and solve problems with their children in a collaborative way. This session is ideal for those caring for tweens, teens, and adult children.
Carrie O'Toole | I Don't know if I Can Do This Anymore: Support Group (Part 2)
We know that sometimes all the education in the world is not going to change your current situation and you just need a safe place to be fully supported by others in a similar journey. Join us for Part 2 of "I don't know if I can do this anymore" -- a support group experience. You are not alone.
Be a part of our live audience at The Compass Church in Naperville, IL with teaching, worship, breakouts, pampering, connection, and more!