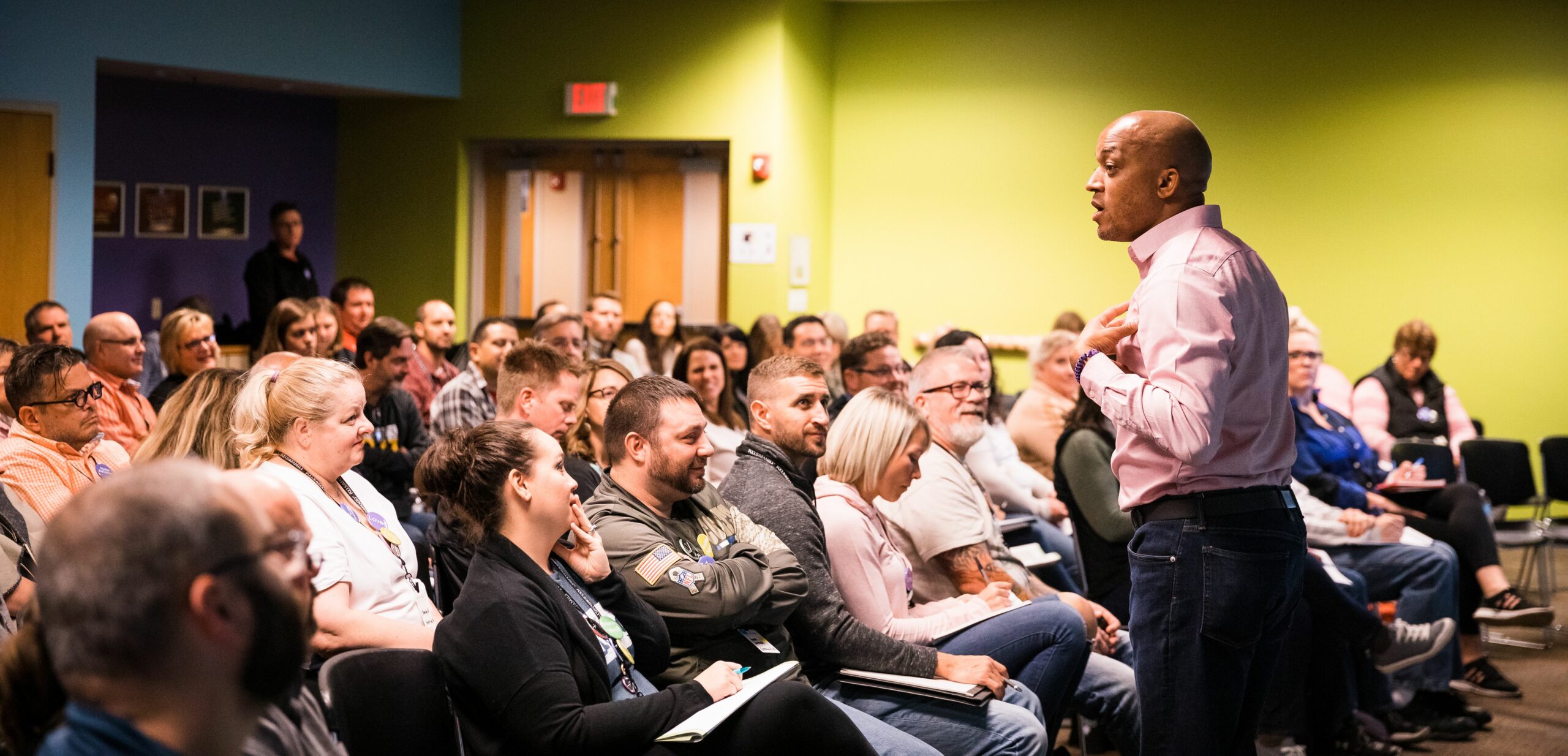 Brandon Stiver | The Road Home: Understanding Reunification and Adoption Globally
Vulnerable children in the Global South face increased risk of trauma and becoming separated from family. Living in orphanages or on the streets is no way to spend a childhood. In this workshop, we'll identify misconceptions in orphan care and learn what can be done to help children facing adversity. We'll take a look at these children's journeys and see how we can help them get back to where they belong: home.
Chef Kibby | Cooking Is Connecting
Children affected by trauma are often resistant to our attempts to build trusting relationships. However, cooperative cooking is a language you can use to express care, provide support, challenge growth, share power, and expand possibilities - all developmental assets they need to grow strong, healthy, and resilient, communicated through the shared act of cooking and eating together.
Clifton Corbin | Raising Financially Literate Children: Why It's Critical & How You Do It?
Join author Clifton Corbin as he discusses Your Kids, Their Money. In this session you will be provided with the tools and skills to teach financial literacy to your children. They are never too young to get started.
Chuck Hagele MBA | Why Our Kids Love Tech
Our kids are doing the best they can to meet their needs. Technology can easily become the tool they use to self-soothe, distract, or numb. This session focuses on helping our kids skillfully meet their needs rather than get stuck on technology.
Chuck Hagele MBA | The Dumb Smart Phone
Our kids need to learn how to responsibly own a phone and as parents we have a responsibility to protect them. This session explores how to manage the phones features and applications to help your kids learn responsibility while also maintaining child safety.
Cindy Lee | Why does my child need power and control?
Many children who have experienced harm exhibit a high need to be in control. In this session, Cindy provides the many reasons why this is happening and some strategies you can use to help your child with this issue.
Daren Jones | Understanding trauma and how to promote healing: A TBRI approach
What is trauma and how does it impact our kiddos? We will spend time understanding trauma, its impact, and how the TBRI® strategies help us respond to behaviors and create an environment of connection and safety.
Daren Jones | Healing in Action: A Trust-Based Relational Intervention (TBRI) Approach
We will dive deep into how to implement TBRI strategies to help promote healing in children who have experienced trauma.
David & Jayne Schooler | Telling the Truth to Your Adopted/Foster Child
For a child to understand his life story is fundamental to healthy development. This workshop will discuss ten principles in talking to children and youth about their past.
David & Jayne | Impact of Fostering/Adoption on Children Already in the Home
Children currently in the foster/adoptive home are definitely impacted by the decision their parents made to open their home. This workshop examines the major impacts and offer strategies to manage those isssues.
Jason Johnson | Staying Connected Making Your Marriage a Priority Along the Journey
Often times in the foster and adoptive journey, one of the first things to take a "back seat" on the priority list is our marriages. This workshop is designed to help bring our marriages back to their rightful place - as one of the most important things we can focus on and pour into. We don't just want marriages to survive the journey, but to thrive and grow because of it. That's what this workshop is designed to help you with.
Jenn Hook, MA | The Defiant Child
Are you caring for a child with extreme defiance behaviors? Join Jenn, therapist for children and adolescents in foster care, as we discuss what oppositional defiance is, how to differentiate that from trauma behaviors, and receive tips and encouragement as you continue loving your child through the hard parts of their story.
Lisa Qualls & Claire | Impact of Adoption/Foster Care on children in the home: Q&A(Lisa and Claire Q)?
So often we're focused on the significant needs of the children who join our families through foster care and adoption. We may hope the other children are doing well when they actually need our support more than ever. Listen in as Lisa Qualls interviews her young adult child about her experience of having four siblings join the family through adoption.
Ryan & Kayla North | When Two Worlds Collide
The greatest times of conflict in relationships often arise when one person's history intersects with another person's history. Parenting is no different. Some of the toughest moments in parenting occur when my child's history and beliefs collide with my history, motivations, and expectations.
Scott Watters, LPC | Creating Healing Attachments
In this presentation, Scott Watters describes a simple diagram of the attachment relationship, discusses ways in which the attachment relationship can go wrong, and helps create a path to empower healing for relational wounds.
Scott Waters, LPC | Empowering Change with Nurture Groups
Using real world examples, Scott Watters outlines a tool for families and professionals to empower self-regulation, nurture behavioral change, build social skills, and create space for secure attachment.
Scott Waters, LPC | Connecting before Correcting
Correction without connection can lead to mistrust and frustration for both parents and kids. Small missteps can lead to meltdowns in an instant. In this session, Scott Watters provides strategies to help parents empower trust during correction. He shares tools and tips from his experiences of working with kids from hard places at home and in a residential setting.
Tamara Bolthouse | Choosing Residential Treatment: Special Considerations for Children through Foster Care or Adoption
Demystifying the confusing treatment industry and finding the right kind of therapy program for a child impacted by foster care or adoption who needs out-of-home behavioral, mental health, or neuro-specific treatment. We will discuss prioritizing treatment goals, and finding programs that specialize in attachment and developmental trauma; Parental concerns with out-of-home custody, and CPS, School, or State involvement; Health Insurance Coverages, or funding through Medicaid, Adoption Assistance, IEP Funding, Crime Victims Compensation, Tribal Funding, or Lending resources; and Finding family-inclusive treatment locations. This session will be a researching parent or resource hoarder's dream come true. All my best handouts will be available.
Trish Jonker, LCPC | Connecting with Teens
When your children turn into tweens and teens, connecting with them can feel like a journey into another world. They don't respond like they used to and its easy to feel like a failure. Here we will take basic connection strategies & translate them for bigger kids. You're not alone. This is hard stuff.
Yvonne Swinth, PhD, OTR/L | Is it Sensory or is it Behavior: Strategies to Address Sensory Processing Needs (Part I)
Many children who have experienced trauma or have a diagnosis such as ADD/ADHD or Autism Spectrum Disorder have unique developmental and behavioral needs as a result of sensory challenges. Addressing these needs is essential for social interactions, school participation and participation in home routines. During Part I, of this two-part workshop, an overview of sensory processing will be provided and what to do for a child struggling with one of these issues will be discussed.
Yvonne Swinth, PhD, OTR/L | Is it Sensory or is it Behavior: Strategies to Address Sensory Processing Needs (Part II)
This session will build upon what was learning in Part I of addressing sensory processing needs of children and youth. It is designed to provide practical strategies families can use to support these children in the home, school and community. Strategies will also include how to talk to other professionals about your child's sensory needs, and how to support play and executive functioning for children with sensory processing challenges.
Purchase our bonus content and gain access to this specialized training until December 31, 2022.